Men Tell Health are delighted to offer both the internationally-recognised 2-day Mental Health First Aid course and the shorter, but equally informative, Mental Health First Aid Lite course. Both courses are available to anyone based in the UK.
Mental health problems cost UK employers £30 BILLION every year due to lost production, recruitment and absence. In fact stress accounted for 37% of all work-related ill health cases in 2015/16, not only that, it accounted for 45% of all working days lost due to ill health.
Each employee with stress will, on average, lose almost 24 working days per year. In 2015/16 there were around 488,000 cases of work-related stress, depression or anxiety. (Source : HSE).
According to research, mental health issues cost British businesses an average of £1,000 a year for every employee. Most firms could make big savings with a few simple steps, starting right now.
Helping your employees to understand mental illness makes financial sense, especially in these turbulent economic times, but it also helps them to know what to look for in themselves and each other to avoid costing you time and money. In addition, more knowledge about mental health means less stigma. That's exactly where our Mental Health First Aid courses come in.
If you'd like to book (or just enquire) about us running one (or both) of the MHFA courses we offer for you or your colleagues, please fill in the form below and a member of our training team will be in touch with you very soon. Scouts honour.
The main MHFA course content is split into four main areas:
Mental Health First Aid, mental health and depression;
Suicidal crisis.
Anxiety, personality disorders, eating disorders and self harm.
Psychosis, schizophrenia and bipolar disorder.
Within each section, you'll learn how to spot the early signs, how to feel confident helping someone, provide first aid help, prevent someone from hurting themselves (or others), stopping a mental health issue from getting worse, help someone recover faster, guide someone towards the right support and help reduce the stigma of mental health issues.
The sessions are an engaging mixture of presentation, discussions and group work. Obviously the main course goes into more detail than the introductory Lite course.
Our team will help support you throughout the course and are trained by MHFA England to a very high standard. If anyone is finding the course difficult, given the nature of the topics, then we will always do what we can to ensure you remain safe and comfortable.
Everyone who attends will receive a copy of the MHFA manual and the associated workbook which are yours to keep. Upon completion, you will also receive a certificate, issued by MHFA to confirm that you are a trained Mental Health First Aider. This also contributes towards your CPD (Continuing Professional Development).
Unlike many organisations, we don't charge per person. We charge per course, this means, for organisations who want to train multiple members of their workforce, it makes it much more cost effective. Even if you don't have enough staff to fill the places, you could offer training to your business partners and help spread the cost.
Depending where you are in the county, the travel / accommodation expenses of the trainer will be in addition to the course cost, where appropriate. If we can travel there and back realistically without staying over, we will.
For an accurate price, please use the form below and we'll be in touch.
We need a minimum of 12 people to run the MHFA course, up to a maximum of 16. The more people attend, the more cost-effective the course becomes. The reason we need that many is that a big part of the course is working together in groups and engaging with each other on a variety of topics.
For the Mental Health First Aid Lite course, we need more than 12, up to a maximum of 25 people.
All attendees need to be 16 years of age or more at the time of the course.
The only thing you'll need to provide is the people and the room and, if necessary, the refreshments. We will provide all the documentation, projector, IT hardware and course materials. We want to make the whole experience as simple for attendees as possible.
Apart from a warm fuzzy feeling, on the full 2-day MHFA course you'll also get an electronic certificate signifying the completion of the course which will look wonderful on your wall. You'll also get to keep the manual and workbook you'll use throughout the course and a lanyard detailing the important aspects of ALGEE (all will become apparent on the course).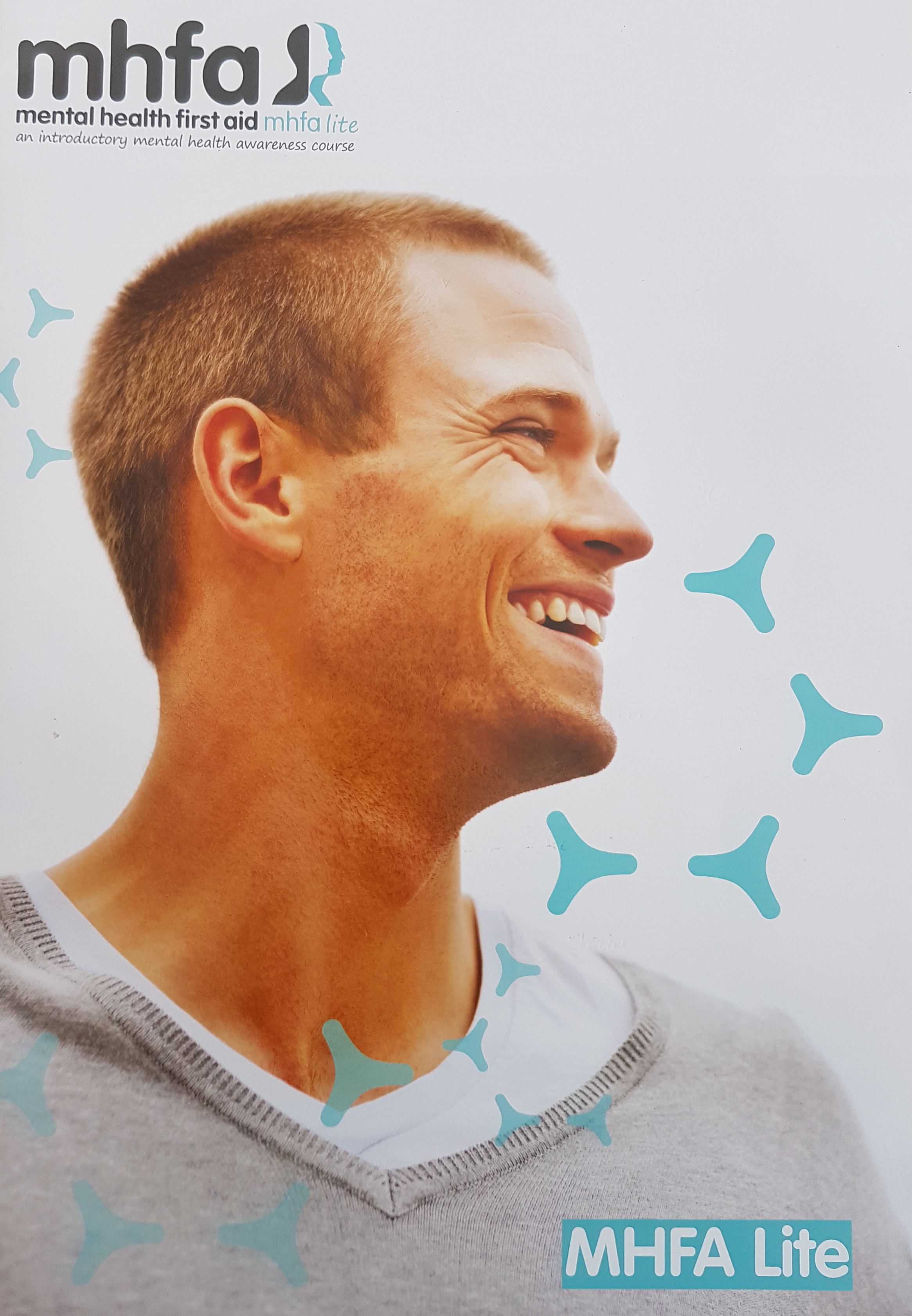 If you're doing the MHFA Lite course, you'll get a workbook and a lovely electronic certificate.
Sadly not. Neither the 2 day MHFA course nor the 3-hour Lite course will make you any sort of counsellor, therapist or psychologist, in the same way that doing a physical first aid course doesn't make you a Doctor or surgeon.
What it will make you is more understanding, knowledgable and supportive to those who live with mental illness day-to-day.
No. The course is open to any adults, but you don't any previous qualifications and experience, mental health-related or otherwise.
If you can give us some more details about your needs, we will do our very best to accommodate you. Simply fill in some basic details and a member of our team will be in touch as soon as possible.